Portfolio of Fresh Start Decorators in Birmingham

Domestic, Residential, Commercial and Public work carried out by Fresh Start Decorators. Some of the work show below is in the before commencement, during and after completion stages.
Exterior Painting Projects
Fresh Start Decorators can complete exterior decorating to Domestic, residential and commercial buildings.
Work at height is dangerous, so please leave it to professionals that have experience in the trade. Fresh Start Decorators use various equipment to help access heights and to get around obstacles. With the use of mobile towers, scaffolding and mobile elevated work platforms; our decorators have always accessed heights safely. When working at a height being comfortable ensures not only the safety of the worker, and those around; but also ensure the work is having the correct attention and time spent to complete the necessary tasks with precision.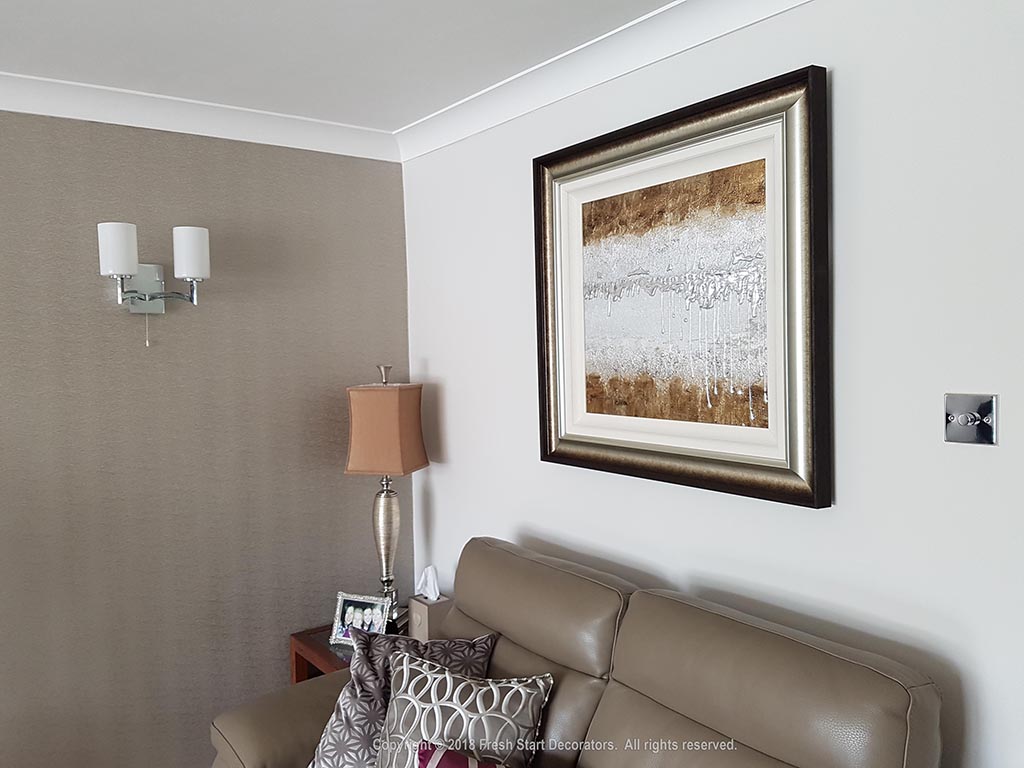 Interior Wallpapering Work
Our decorators can complete lining paper, feature walls, murals or complete rooms
There are many aspects to think about when completing wallpapering. How the pattern may be affected if the ceiling line is out. This can be seriously noticeable if the wallpaper being hung is horizontal lines and an object, such as a desk is against the same wall. If lining paper should be hung first? This is highly recommended, but not everyone's budget allows for this. How can wall bleeding on thinner wallpaper be prevented if lining isn't used. If there are no breaks around the walls in a room; knowing how to match the pattern in the last corner. How to work with window recesses and finish it professionally. Fresh Start Decorators can help contact us today to arrange a free call out and estimate.
Interior Painting Projects
Fresh Start Decorators can complete interior painting for domestic, residential and commercial customers.
Fresh Start Decorators have experience in working with a large range of paint products from various suppliers. We can recommend the most suitable product and supplier for the project to be undertaken. From emulsion, satin, gloss, eggshell and stains or varnishes; Fresh Start Decorators know how substrates are to be prepared for the finish and the best methods for the products to be applied. Looking for your own materials and unsure of how much paint is required for a project? not a problem just ask Fresh Start Decorators and we will be happy to give our advise.